Bruno Anedda
My Chi
Sound Light Performance - 2' 06''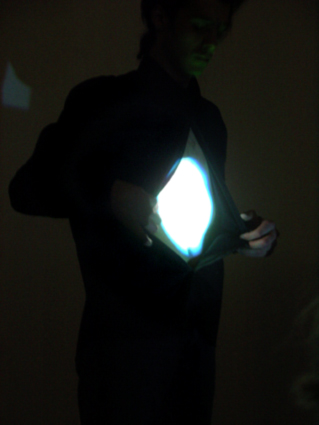 Inspired by the concept of chromatic harmony this work refers to the futuristic manifesto "Abstract Cinema - Chromatic Music" (Corra, Bruno 1912) revealing an interaction between sound and color. On this piece they do affect and influence each other as a true manifestation of light.
Performing "My Chi" Bruno Anedda explores the notion of 'Supreme Ultimate Force' which is often associated with the Chinese concept of yin-yang.
Here, Anedda reveals his "Chi" as he unbuttons his shirt and deliberately shares it with the audience. As the moment of calm and tranquil mind his achieved, the artist slowly closes his shirt, acquires exactly the same pose he started with and steps out of scene.